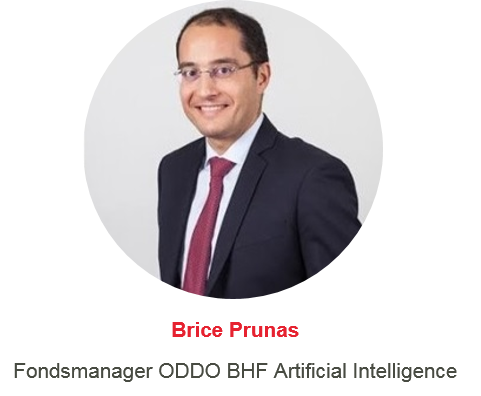 Launched in December 2018, ODDO BHF Artificial Intelligence has proven the value of Artificial Intelligence in the investment process of mutual funds.
With an annualized return of the institutional CIw-USD share class since inception of +27.0% vs. +23.3% for its benchmark (MSCI World NR USD), the process has shown its worth in a volatile year. Per 31 January 2020 the assets under management are at € 73 million from both institutional and private investors.
ODDO BHF AM has been one of the first European asset management companies to use artificial intelligence algorithms to tackle thematic investing. The fund not only invests in artificial intelligence (AI) but also uses AI algorithms with the aim to identify relevant stocks. It gives investors a comprehensive exposure to the AI theme, by selecting globally companies of all sizes, that are developing or using AI.
One year after its launch, the ODDO BHF Artificial Intelligence fund demonstrates the effectiveness of "Big Data" technologies in asset management.
Artificial Intelligence is a source of multiple opportunities
AI is a silent revolution that will transform all sectors of the society and the economy
Companies that can use AI to create a competitive advantage will, in the long term, be value creators
Some example of AI application: Cloud technology, autonomous vehicle, IoT, Natural Language Processing, Automation
Investment Process
The power of AI combined with a proven quantitative model in order to invest in the best global listed equities linked to the AI thematic.
Disclaimer 
ODDO BHF AM is the asset management division of the ODDO BHF Group. It is the common brand of four legally separate asset management companies: ODDO BHF AM SAS (France), ODDO BHF PRIVATE EQUITY (France), ODDO BHF AM GmbH (Germany) and ODDO BHF AM Lux (Luxembourg). 
This document has been drawn up by ODDO BHF ASSET MANAGEMENT SAS for all market communication. Its goal is to present the ODDO BHF AM brand. Its investor communication is the responsibility of each promoter, distributor or advisor. Potential investors are invited to consult an investment advisor before investing in a strategy. Investor's attention is drawn to the fact that all strategies are not authorised in every country. Should they decide to invest, investors are invited to acquaint themselves with the detailed nature of any risks incurred, in particular the risk of capital loss. The value of the investment may vary both upwards and downwards and may not be returned in full. The investment must be made in accordance with investors' investment objectives, their investment horizon and their capacity to deal with the risk arising from the transaction. ODDO BHF AM SAS cannot be held responsible for any direct or indirect damages resulting from the use of this document or the information contained in it. This information is provided for indicative purposes and may be modified at any moment without prior notice. Investors are reminded that past performance is not a reliable indication of future returns and is not constant over time. Any opinions presented in this document result from our market forecasts on the publication date. They are subject to change according to market conditions and ODDO BHF AM SAS shall not in any case be held contractually liable for them. 
From January 3, 2018, when ODDO BHF ASSET MANAGEMENT provides investment advisory services, please note that it's always on a non-independent basis pursuant to the European Directive 2014/65/EU (so-called "MIFID II Directive"). Please also note that all recommendations made by ODDO BHF ASSET MANAGEMENT are always provided for diversification purposes.