Editorial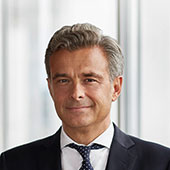 Philippe Oddo, General Partner ODDO BHF
Dear clients, dear partners,
On behalf of all the Group's teams, I would like to reiterate our thanks for the trust you have placed in us. You are at the forefront of our determined efforts to best serve your interests. 
As you know, we currently have 1,300 employees in Germany and 1,000 in France following the three acquisitions carried out in Germany in 2015 and 2016. We have built a unique group with a unique Franco-German identity which has become a concrete reality. In France and Germany, our approach is encouraged by both our employees and our customers, and more generally by the economic and financial sectors.
With our in-depth German-French expertise, we offer you extensive knowledge of the companies, economy and investors of both countries. It allows us to continue to invest in the best tools for our IT and financial analysis systems as well as any new expertise that we deem beneficial for you. We have thus significantly broadened our offer, not just in the eurozone but also in the rest of the world, especially in the non-listed segment.
In order to offer you the highest service quality, we set ourselves ambitious goals. More than ever, they lead us to make a commitment to you to a sustainable and cohesive future. Therefore, we have put in place a general process for incorporating environmental, social and governance criteria that directly influence the construction of our portfolios. We are extending our expertise in this area to a growing share of our assets under management.
The Group has consolidated its financial solidity, with more than €866 million of shareholders' equity and a solvency ratio of over 16.6%. Combining all businesses, Group NBI totaled €591 million, in line with our budgeted target.
We started the year 2019 with a very constructive spirit and are looking for the most promising investment ideas for the coming years. I can assure you that, together with the entire Executive Board and our ODDO BHF teams, I will do everything in my power to make finance work for you.
Yours sincerely
Philippe Oddo, 
General Partner