External Asset Manager
ODDO BHF IS THE IDEAL PARTNER FOR INDEPENDENT ASSET MANAGERS
The External Asset Manager unit provides independent asset managers with a proven, flexible and cost-effective custodian service that allows them to focus on their core business of managing client assets. As a client-focused service provider, our clients are at the heart of our service. In doing so, we live a constructive cooperation based on partnership on a daily basis. Some of the cooperation has existed for decades and is designed for the long term.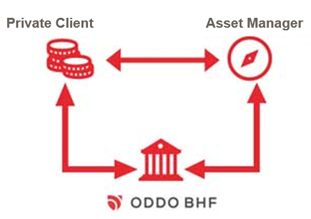 INDEPENDENCE
The External Asset Manager team acts as an independent unit within the Private Wealth Management business unit. The External Asset Manager team's services are strictly separated from the Bank's asset management organisation. The protection of client data through all necessary organisational and technical measures is a central component of the service. The services are offered via the bank's own scalable IT infrastructure.
PERSONAL CONTACTS
The unit consists of a team of experienced, long-term employees with extensive expert knowledge. We provide our customers with meaningful and quality-assured results and support them personally with inquiries and the implementation of requirements
SCOPE OF SERVICE
Personal dedicated contact person who takes care of your concerns

Account and custody account management

Representation of complex customer relationships; in addition to individual and joint accounts, ODDO BHF also maintains account relationships for GbRs, companies, foundations, trust assets. This applies in principle to resident and non-resident taxpayers.

Data transfer via interface connections to established tools such as vwd, PSplus and others

Settlement of stock exchange trading and order placement

Online access to portfolio holdings

Comprehensive and clear portfolio reporting

Support in transaction cost, loss threshold and ex-post cost reporting

MiFIR 26 Transaction Reporting

Processing service for foreign withholding tax incl. advance exemption and refund of foreign withholding tax

We also offer optional lombard loan solutions, support in the areas of succession planning and asset structure consulting, as well as access to private equity, real estate investments, research and FX trading from ODDO BHF.
Our service for your wealth